Track Walk
Sunday, March 4, 2018
9:00 AM -

10:00 AM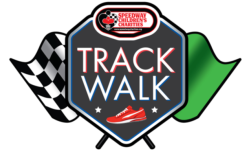 Join hundreds of fans on a nice leisurely walk around the track during the SCC Track Walk, which takes place Sunday, March 4 from 9-10 a.m. before the Pennzoil 400 presented by Jiffy Lube.
Fans can sign up for $25 before Thursday, March 1 (ON-LINE CLOSES AT NOON PT), or purchase wristbands trackside for $35, and children 16 and under are free with a paid adult.
Track Walk participants must pick up their wristbands and t-shirts and sign waivers at the SCC tent located behind the LVMS Gift Shop before 8 a.m. Sunday, March 4.
Each person will receive an event t-shirt with their entry.
CHECK-IN HOURS
Friday, March 2 from 11 a.m. to 3 p.m.
Saturday, March 3 from 9 a.m. to 12:30 p.m.
Sunday, March 4 from 7 a.m. to 8 a.m.
For more information on any SCC event, contact Paulette Anderson at (702) 632-8242 or email her at panderson@lvms.com.
On-line registration will be open soon or you may sign up at the SCC booth behind the administration/gift shop building starting Friday, March 2.
Email panderson@lvms.com or call (702) 632-8242 with questions.