SCC Driver and Memorabilia Auction at Sam's Town
Thursday, March 1, 2018
6:00 PM
Sam's Town Hotel & Gambling Hall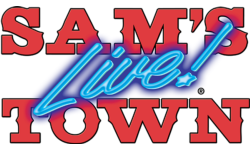 SCC Driver and Memorabilia Auction will be at Sam's Town Hotel & Gambling Hall, located at 5111 Boulder Hwy, Las Vegas, NV 89122, on Thursday, March 1, 2018.
Doors open at 5 p.m. and the Auction will begin at 6 p.m. Admission is free.
Come bid on a Ride of a Lifetime in the parade lap with a NASCAR superstar AND bid on a wide variety of racing memorabilia and one-of-a-kind experiences! Many trucks have two drivers, so you might be surprised at another superstar driver joining you!
NASCAR Auction emcees include NASCAR's pit reporter Jamie Little and Brittney Cason from "Brittney & Sparks in the Morning" on KOMP 92.3.
YOU MAY START BIDDING NOW! Click on https://speedway18.auction-bid.org  so you can get started before you get to Vegas or if you can't make it to the auction, you can still participate.
Thank you for supporting the Las Vegas Chapter of Speedway Children's Charities! Call (702) 632-8242 with questions.