Bluegrass Bucket Brigade presented by Seal-Pro
Saturday, September 23, 2017
8:00 PM -

10:00 PM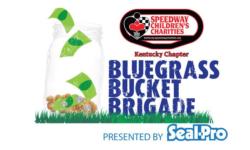 SCC's Bluegrass Bucket Brigade will return to the grandstands of Kentucky Speedway on Saturday, September 23. This is your opportunity to drop the change in your pockets in the bucket as it passes through your row church-pew style.

At the first caution or lap 25 (whichever comes first), watch for the brigade coming through the grandstands to collect donations. They will be carrying large blue buckets and wearing t-shirts featuring the Bluegrass Bucket Brigade logo on the front. The brigade consists of local non-profit groups who volunteered their time to come out and help SCC with this activity.

All donations collected from this activity are awarded to non-profit children's organizations in the local community.

SCC would like to thank Seal-Pro for becoming our Presenting Sponsor for this fundraiser this year!